Alumni Awards
The Cal Lutheran Alumni Board of Directors Awards Program recognizes the outstanding achievements of California Lutheran University alumni. Nominations for awards in the five categories listed below are welcomed from all members and friends of the Cal Lutheran community.
We look forward to receiving your nominations and recognizing the outstanding achievements of your fellow alumni.
Ron McDaniel
Outstanding Alumni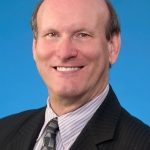 Ron McDaniel is the President/CEO of California Credit Union (CCU) headquartered in Glendale. CCU has assets totaling $.1 billion. His credit union career has spanned 40 years including the past ten years at CCU and 22 years leading Point Mugu Federal Credit Union in Ventura. Ron has been actively involved in the credit union industry serving on national and state boards and committees throughout his career. He currently serves as Chairman of the California Credit Union League's (CCUL) Government Affairs Committee. In that role he has led an effective legislative agenda and has testified before a Joint Conference Committee of the California Senate and Assembly. He was honored by CCUL with the Distinguished Service Award.
Ron graduated from CLU's Adult Degree Evening Program (ADEP) in 1988. He served several years on the Board of CLU's Alumni Association including one term as President. He served on the Presidential Search Committee when Luther Ludtke was selected CLU President. Ron currently serves on CLU's Board of Regents. His responsibilities include assignments on the Administration and Finance Committee, the Investment Committee that oversees the University's endowment, and on the Audit Committee.
Ron also serves as Chairman of the Credit Unions for Kids Advisory Board for Children's Hospital Los Angeles. Ron has a wide variety of interests including traveling (what's better than Maui or Scotland?), reading, baseball, history - especially the Revolutionary War and Civil War periods. He and his wife, Cindy, live in Ventura. Their married daughter resides in Sacramento.