Alumni Awards
The Cal Lutheran Alumni Board of Directors Awards Program recognizes the outstanding achievements of California Lutheran University alumni. Nominations for awards in the five categories listed below are welcomed from all members and friends of the Cal Lutheran community.
We look forward to receiving your nominations and recognizing the outstanding achievements of your fellow alumni.
Julie (Brown) Sykes
Outstanding Young Alumni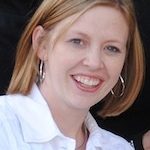 Sykes graduated summa cum laude in 2001 with a double major in Spanish and international studies. She completed her master's degree at Arizona State University in 2004 and received her doctorate in Hispanic linguistics from the University of Minnesota in 2008. She is presently an assistant professor of Hispanic linguistics at the University of New Mexico, where she was nominated for New Faculty of the Year in 2009–10.
In her teaching, Sykes strives to provide meaningful, relevant intercultural experiences for her students, using technology to go beyond the walls of the classroom. As coordinator of the Spanish as a Second Language Program at UNM, she serves 2,500 students in beginning and intermediate level Spanish courses and supervises 35 graduate teaching assistants.
Sykes' research focuses on the use of digital technologies, including digital games, for language acquisition. She created Croquelandia, a synthetic game to help students learn language, and she has also developed place-based mobile games that offer different contexts for students to build their skills.
She has presented and published articles on synchronous computer-mediated communication and pragmatic development, digital gaming and computer-assisted language learning, and vocabulary building through digitally mediated environments. She recently completed her second book with co-author Jonathan Reinhardt in which they draw parallels between second language acquisition and digital game design to demonstrate ways in which digital games may be useful for language teachers.
Sykes lives in Albuquerque with her husband Ray '01 and their daughter Lily, 17 months. In her leisure time she loves to travel, explore local cuisine, and spend time with friends and family.