Alumni Awards
The Cal Lutheran Alumni Board of Directors Awards Program recognizes the outstanding achievements of California Lutheran University alumni. Nominations for awards in the five categories listed below are welcomed from all members and friends of the Cal Lutheran community.
We look forward to receiving your nominations and recognizing the outstanding achievements of your fellow alumni.
Marshall Bowen
Outstanding Music Alumnus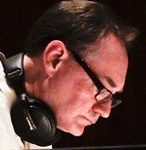 In the Los Angeles film and television music scene, Marshall has worked as arranger, orchestrator, conductor, copyist, proofreader and librarian with top professionals on hundreds of projects. With the Disney Music Library for over 20 years, he can be found prepping musicians, conducting the orchestra, and being the "ears" for the composer in the recording booth. Recently he's worked on Pirates of the Caribbean, Transformers, Cars 2, Super 8, Cowboys & Aliens and Mission: Impossible.
Marshall has served four Lutheran congregations in Southern California as minister of music, directing adult, youth, children's and handbell choirs, and arranging countless pieces for instrument and voice.