Alumni Awards
The Cal Lutheran Alumni Board of Directors Awards Program recognizes the outstanding achievements of California Lutheran University alumni. Nominations for awards in the five categories listed below are welcomed from all members and friends of the Cal Lutheran community.
We look forward to receiving your nominations and recognizing the outstanding achievements of your fellow alumni.
Brandie Murrish
Outstanding Alumni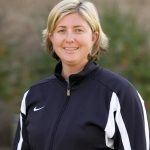 The CLU Alumni Association Board of Directors is proud to welcome back Brandie Murrish '98 as the 2008 Outstanding Alumna. Murrish was honored and delivered the keynote address at CLU's Honors Day Convocation in Samuelson Chapel.
Murrish recently completed her second season at the helm of the Sierra College Women's Basketball program. In her first season as head coach, the team finished second in the California Community College State Tournament with an overall record of 32-5. As a result, her peers voted her 2006-2007 Coach of the Year.
Prior to her position at Sierra College, Coach Murrish guided Bishop Alemany High School, a premier Catholic high school in Southern California, to the CIF Division Finals and was named the 2005-2006 CIF Southern Section Coach of the Year.
From 1998-2000, Murrish was an assistant coach at her alma mater, California Lutheran University. During that time, her teams won the SCIAC championship and advanced to the second round of the NCAA tournament. As a student-athlete at Butte College, Murrish earned the title of Butte County Sophomore Athlete of the Year. Later as a student-athlete at California Lutheran University, she earned first Team All-Conference honors.
Her education includes a bachelor of science in sports medicine from CLU and two master's degrees: one in education, instructional technology from Grand Canyon University in Phoenix, and the other in kinesiology from California State University, Northridge.