Carol Bartell
Honorary Alumni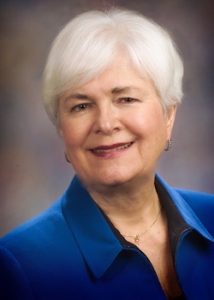 Dr. Bartell retired in 2010 as Dean of the School of Education at California Lutheran University. While at Cal Lutheran, she led the School of Education to achieve national accreditation, initiated the university's first doctoral program and worked with the development office to raise $6.5 million for a new Education and Technology Center that opened in the Fall of 2002. Dr. Bartell has served as a faculty member at five other universities, serving as Dean at three in the California State University System. She has classroom teaching and leadership experience in P-12 schools in five different states and worked in a state level policy role for the California Commission on Teacher Credentialing.
While working in Sacramento, Dr. Bartell played a leadership role in state and national standard-setting activities for teachers and administrators, including leading the development of the California Standards for the Teaching Profession. She is also past-president of the California Council on Teacher Education, an organization which presented her the Distinguished Teacher Educator Award in 2009. Dr. Bartell received her bachelor of arts degree in Elementary Education /Music History and Literature from Concordia University - Chicago, her master of arts in Early Childhood Development from University of Michigan and her doctorate in Educational Administration from Virginia Polytechnic Institute. In 2011, Concordia University awarded her with an Honorary Doctor of Laws.
A prolific author, Dr. Bartell's work focuses on the preparation, induction, and mentoring of high quality teachers and administrators. She is the author of Cultivating High-Quality Teaching through Induction and Mentoring, published by Corwin Press.