Karen (Bornemann) Spies
Service to Alma Mater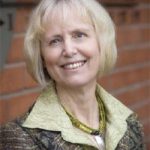 Karen Bornemann Spies is Regent Emerita at California Lutheran University. She served on the Board of Regents for a dozen years, including four years as chair, during which time she led the Presidential Search Committee and worked with her colleagues to develop and adopt the university's current Strategic Plan. Spies participated in the Board of Regents' committees which lead to the development of early distance learning opportunities and which laid the groundwork for the merger between the university and Pacific Lutheran Theological Seminary. She also led the advisory committee for the successful implementation of the 25th anniversaries of the Graduate School of Education and School of Management.
Spies has a long and varied career as an educator, author, and nonprofit board member. After graduating summa cum laude from Cal Lutheran in 1970, she enrolled in graduate school at the University of Washington, where she earned her M.Ed. in curriculum and instruction in 1974 and her elementary principal's certification in 1975. She is a life member of Pi Lambda Theta education honor society. Spies became a teacher, then the assistant to the school superintendent, and later a vice principal at schools in Oregon, New Jersey, and Washington. Active in developing curricula, she also served as a team leader and district chair for kindergarten programs and completed doctoral-level classes in curriculum and administration.
Spies is a prolific author who has written 26 books and 15 curriculum projects, as well as numerous articles and stories on a wide-ranging number of subjects. Her work includes fiction, nonfiction, and religious reference materials. Her published writings include several books on Greek mythology, among them Heroes in Mythology (Mythology Rocks!), and Mythology of the Iliad and the Odyssey, which have been recognized in Best Books for Young Adult Readers Grades 7-12 and Best Books for Middle School and Junior High Readers Grades 6-9. She was awarded a Notable Social Studies Book Award for her biographies of Franklin D. Roosevelt and John F. Kennedy.
Spies is active in several Denver nonprofits as well as in the Lutheran church. She is on the board of Lutheran Family Services of the Rocky Mountains, where she serves on the program committee and development planning task force. She is a former board member at Florence Crittenden Services and the Ronald McDonald House Charities of Denver.
Born in Seattle, Spies moved with her family to Minnesota while her father completed graduate school, and then to Long Beach, California. Spies' first exposure to what would become California Lutheran University was in the early 1960s when she was a young girl and her Christ Lutheran Church congregation visited campus for a picnic and swim in the pool. Later, as a freshman, she met her future husband, Allan Spies. It was after a campus visit for her 30-year reunion that she began her current path of involvement with the university. After the reunion, she and her husband decided to commit philanthropically at higher levels, engaging other family members to donate to what became the Spies-Bornemann Center for Education and Technology, dedicated in 2002. The couple also contributed to the building of the Gilbert Sports and Fitness Center, the Swenson Center for the Social and Behavioral Sciences, and established a music scholarship in honor of her mother, Aina J. Bornemann.