Jim Berk, M.A.
Outstanding Alumni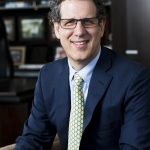 A lifelong commitment to entertainment, education, social change and business leadership has guided Jim Berk throughout his career. These passions have shaped his life from his early days as a teacher, magnet school founder and public high school principal, through his tenures as President and CEO of music, hospitality, leisure, education and entertainment companies.
Jim Berk is Chief Executive Officer of Participant Media, a global entertainment company founded in 2004 that focuses on socially relevant feature films, television, publishing and digital content. Participant's more than 45 films include GOOD NIGHT, AND GOOD LUCK, AN INCONVENIENT TRUTH, FOOD, INC., THE BEST EXOTIC MARIGOLD HOTEL, WAITING FOR 'SUPERMAN', THE HELP, CONTAGION, SNITCH, LINCOLN and THE FIFTH ESTATE.
Since Jim joined in 2006, Participant expanded its film slate while evolving into a full-fledged entertainment company with a portfolio of media investments, two film funds and Participant PanAmerica to develop and co-finance Spanish-language films. Jim established Participant's digital network, TakePart.com, which is now a leader in socially relevant content with more than 4 million visits and 18 million page views a month. In 2012 Participant expanded to television with the launch of Pivot, a new general entertainment television channel targeting the millennial generation, which launched in 40+M homes on August 1st. Pivot features a broad array of socially relevant original programming, television series and a prestigious library of narrative and documentary feature films. This year over 15 million people will take action via Participant's films, television and social action campaigns.
Prior to Participant, Jim was Chairman and CEO of Gryphon Colleges Corporation, where through multiple acquisitions he led the establishment of a national system of private post-secondary professional schools.
Before entering the private equity world, Jim served as President and CEO of Fairfield Communities, Inc., America's largest independent vacation ownership and resort management companies. Jim led the sale of the public company to Cendant in 2001.
Prior to Fairfield, in 1996, Jim was President and CEO of Hard Rock Cafe International, a global entertainment and leisure company in which Hard Rock Cafe is the core business. During his tenure he doubled the estate to over 112 restaurants, created a music label, produced the critically acclaimed weekly music TV series, built live music venues, hotels and the first NBA City.
In 1995, before Hard Rock, Jim was the founding Executive Director for The Grammy Foundation where he oversaw live concerts, festivals, television programs and records, and launched Grammy Records, Showcase and Festivals.
Jim enjoyed similar success as the youngest principal in the history of the 725-school Los Angeles Unified School District, when he was appointed Principal of the Alexander Hamilton High Schools Complex in 1990. During his tenure school enrollment increased by over 1000 students, attendance moved from the 67 to 94% and test scores increased every year.
Prior to his principalship, Jim founded the Hamilton Academy of Music in Los Angeles. He is credited for having created and established the first comprehensive music/fine arts magnet in Los Angeles and the largest music magnet in the West.
His first job upon graduation - at the age of 21 - was as a music teacher Carson High School in South Los Angeles. There, he reopened the closed music department and built the most recognized high school music program in Los Angeles and one of the largest in California.
Jim currently serves on the Boards of Me to We, Cineflix Media, the UCLA School of Theater, Film and Television and the USC Rossier School of Education.