Mark Glesne
Outstanding Young Alumni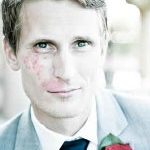 The CLU Alumni Association Board of Directors is pleased to recognize Mark Glesne as the 2012 Outstanding Young Alumnus.
Glesne graduated in 2003 with a major in communication (advertising/public relations) and a minor in sociology. Three years later, the young entrepreneur founded Neutral Dive Gear, a scuba diving lifestyle apparel brand, which he still owns and operates. He currently is Web marketing director at Bed|Stü, a footwear and accessories company headquartered in Camarillo.
An Iraq War combat veteran, Glesne served in the U.S. Marine Corps from 2004 to 2012. He is a member of Calvary Chapel Thousand Oaks, where he plays bass guitar on the worship team and serves Sunday evenings as the preaching pastor for Upstream, the college and young adult ministry program.
As an alumnus, Glesne continues to take seriously CLU's mission and places a top priority on maintaining a connection to the University. Many current students and faculty know him as CLU's stern-yet-loving Fitness Boot Camp Instructor, as well as a private personal trainer and nutrition counselor. He has also volunteered his time speaking to various student groups on topics relating to business, fitness and nutrition, matters of faith, and politics.
Glesne and his wife, Corissa (Gall '05), live in Thousand Oaks with their sons, Ethan and Asher.