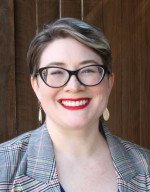 Kirstie Hettinga, Ph.D.
Assistant Professor
Kirstie Hettinga joined the Cal Lutheran faculty in 2013. She earned her doctorate in mass communication from Penn State and her bachelor's and master's degrees from California State University, Fresno. Dr. Hettinga teaches courses in journalism and serves as the faculty adviser to the student newspaper, The Echo. Her research addresses news media, especially print journalism and its relationship with the Internet. She is particularly interested in issues regarding transparency and accountability.

Ph.D., The Pennsylvania State University, Communication

M.A., California State Univeristy, Fresno, Mass Communication

B.A., California State University, Fresno, Mass Communication & Journalism; Theater Arts

2018 Journalism Education Association and National Scholastic Press Association Research Grant with Dr. Elizabeth Smith (Pepperdine), Dr. Lisa Lyon Payne (Virginia Wesleyan), and Dr. Jean Norman (Weber) $5,412.67

2017 Page and Johnson Legacy Scholar Grant with Dr. Alyssa Appelman (Northern Kentucky University) $2,000.