Computer Science
Bachelor of Science
Developing technologies for the future.
In today's fast paced, global society, technology is ever-evolving to shape and keep up with the changes. With a degree in computer science, you will possess the knowledge and skills necessary to influence what's next.
Solve complex problems
You'll learn to break down complicated processes into their constituent parts, ultimately transforming those parts into working code. Learning this approach will also make you more adept at general problem solving.
Design software like a professional
Beyond the skills you'll develop as an individual programmer, you'll also learn how to collaborate effectively by working on group projects. When creating as part of a team, you'll employ the same development lifecycle used in most professional environments.
Your ideal plan
You won't have to worry about taking many years to complete your degree. Our small class sizes and easily accessible courses allow you to complete your B.S. in Computer Science in four years.
Get hands-on experience in the field
Internship opportunities at companies such as Google, Intel, and Disney will give you invaluable hands-on experience working in the industry. One might even turn into a job offer!
The direct experience you receive in the classroom and internships will also prepare you for graduate programs in cybersecurity, machine learning, artificial intelligence and more.
---
Programs
Offered as a major (BS) and a minor.
Popular Minor Pairings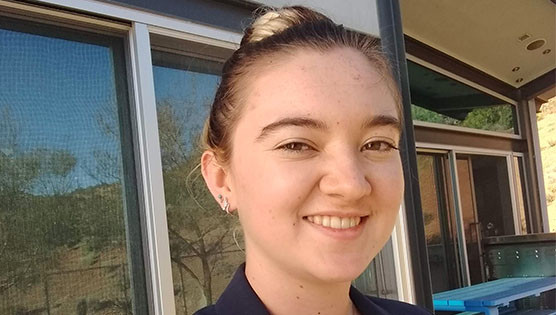 The Computer Science program does a good job at focusing on generalized concepts of programming rather than a specific language. We're taught to think in an object-oriented way, it's really important to break things down and create small pieces of a large program. To write a program to work efficiently and accurately, you need good planning skills. The emphasis on good programming practices in this program is one of the biggest things that sets us up for success in both our classes and future careers.

Kali Hale '22
3D modeling is becoming more widespread and useful for different applications — my research explores how to make 3D modeling accessible to the general public.

Kevin Lee
Project: 3D Modeling With Consumer Technology
Computer science majors are in demand. Our graduates enjoy a high rate of placement in both jobs and graduate schools. Due to the increasingly digital nature of our economy, you'll find that your skills are needed in a wide variety of industries, giving you ample career choices.
Our alumni study at:
California Lutheran University
California State University, Channel Islands
California State University, Northridge
Florida Polytechnic University
Saint Louis University
Washington State University
University of California Santa Barbara
University of Southern California
University of Washington
Our alumni work for:
Aerovironment, Inc
Amazon
Amgen
Bank of America
Big-O Tires
Cresendo Interactive
Disney
Guitar Center
IBM
Intel
Jet Propulsion Laboratory (JPL)
Northrop Grumman
OmniUpdate
Skyworks
Xerox
XYPro
Yardi Systems
Career paths:
Database Specialist
Enterprise Manager
Programmer Analyst
Software Developer
Software Engineer
Systems Engineer
Technical Writer
Webmaster
of Cal Lutheran graduates find a job or enroll in graduate school within nine months
More Career Outcomes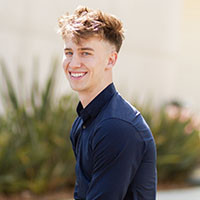 The Computer Science program taught me fundamental concepts in software engineering, computer architecture, networking, software development, and coding principles. I frequently use all of these skills in my current job at Amazon Web Services, where I help architect and build data structures for companies migrating to cloud based computing. Additionally, the program also taught me to be a self-sufficient researcher. This is a key skill to have at any level as it is important to learn and adapt as your job demands change.
Palmer Chaplin '20
Computer Science Major
Cloud Practitioner, Amazon