Graduate and Professional Student Council
Helping you excel at what you do
The Graduate and Professionals Student Council (GPSC) provides a platform to educate all graduate and professional students at Cal Lutheran about resources, support and opportunities for any professional networking events.
GPSC wants your feedback!
Please feel free to submit your feedback. We want to hear your voice on issues that matter to you. Comments and suggestions will be submitted anonymously to the GPSC for their consideration and action. Please feel free to include your contact information if you would like a GPSC representative to follow up with you.
News & Updates
Apply for Professional Development funding!
Upcoming Events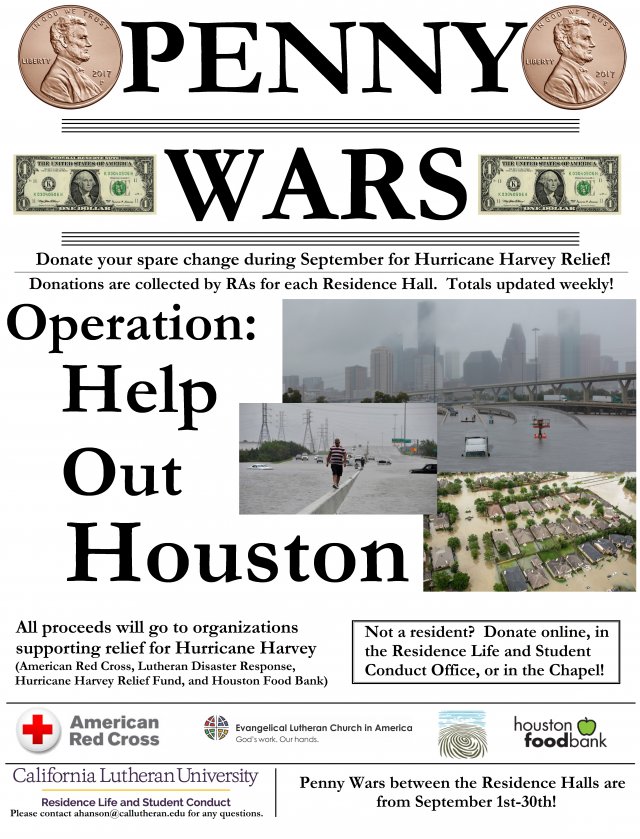 Donate online, in the Residence Life and Student Conduct Office, in the Residence Halls, or in the Chapel! :]
The communities impacted by Hurricane Harvey in Houston need our help! Please donate spare change or more to support! All proceeds go to organizations supporting relief for Hurricane Harvey (American Red Cross, Lutheran Disaster Response, Hurricane Harvey Relief Fund, and Houston Food Bank). Only money collected by RAs counts toward Penny Wars.
More Events