M.S. in Quantitative Economics
This STEM-designated program emphasizes practical applications and interactive learning, and includes close collaboration with members of a world-class economics faculty and forecasting team.
It can be completed in as little as one year, is fully accredited by ACBSP, has been designated as a Certified Forecaster Program by The International Institute of Forecasters (IIF), and is ranked 7th in the nation.
Attached to the program is a Center for Economic Research and Forecasting (CERF), one of only six university-based forecast centers in the U.S. that is included in the Wall Street Journal's Economic Forecasting Survey. CERF has earned many forecast accuracy awards including the 2021 Crystal Ball Award for the Zillow Home Price Expectations Survey (formerly the Case-Shiller Home Price Expectations Survey) that was announced March 7, 2022. CERF has also been named 2nd most accurate forecasting organization by the National Association of Business Economics (NABE).
Want to learn more?
Let us know you're interested and we'll reach out to answer your questions. You'll also receive more information about the program and your financial aid options.
Loading...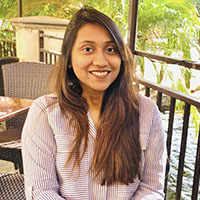 The MSQE program made me detail-oriented and able to work under tight guidelines and schedules. I also had the opportunity to work at the Center for Economic Research and Forecasting (CERF) as a Graduate Assistant. I worked with spreadsheets, data collection, analysis and presentation of data, and rational assumptions that go into an analysis. Being an international student, the MSQE program and CERF gave me a peek into how things are done in the U.S. and that has made me a more confident professional.
Pooja Maheshwari '20
SAP FICO Analyst, Haas Automation Inc.