M.S. in Quantitative Economics
The Master of Science in Quantitative Economics (MSQE) degree can be completed in as little as one year, and emphasizes practical applications and interactive learning, including close collaboration with members of a world-class economics faculty and forecasting team.
The program has been designated as a Certified Forecaster Program by The International Institute of Forecasters (IIF).
We are ranked 4th in the nation for the 2018 Top Master of Financial Economics Programs.
Want to learn more?
Let us know you're interested and we'll reach out to answer your questions. You'll also receive more information about the program and your financial aid options.
Loading...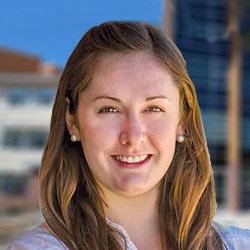 You develop three important skills in the MSQE: theory, mathematics, and programming. Theory is important, and you get plenty, but what sold me on the program was the hands-on aspect. A common complaint from employers these days is a lack of real-world experience. The classwork in the MSQE is project and results oriented. This experience, and the opportunity to work at the Center for Economic Research and Forecasting (CERF) alongside your professors... this program offers much more than just theory. Without the experience of really applying the material while still in school, I wouldn't have had the options available to me afterwards. This program sets you apart.
Molly Clancy '10
Quantitative Modeler, Google