California Teaching Credential Programs
The Preliminary Teaching Credential program is characterized by its rigor and relevance to today's increasingly diverse schools. Classes are small, professors are accessible, and field supervisors provide individual mentoring.
Want to learn more?
Let us know you're interested and we'll reach out to answer your questions. You'll also receive more information about the program and your financial aid options.
Loading...
Graduate School of Education Open House
Tuesday, May 24, 2022 from 6:00 - 8:00 pm
We're hosting an Open House reception to give you an opportunity to learn more about what Cal Lutheran's Graduate School of Education has to offer. You'll meet faculty and staff, current students, and alumni who can tell you first-hand about the value of our programs.We offer graduate education degrees that will prepare you to lead and transform education for the challenges of the future. Whatever your program of interest we'd love to meet!
Strong Foundational Coursework
The program is divided into three distinct stages of course work: Foundations, Methods, and Full-Time Student Teaching.
Upon completion of the program, candidates will be eligible for the Preliminary Multiple or Single Subject Teaching Credential offered by the California Commission on Teacher Credentialing.
Master's Degree Option
Upon completion of the Preliminary credential program, you can take these courses to earn the M.Ed. in Teacher Leadership degree:
EDGN 509 Introduction to Educational Research
EDGN 510 Educational Research Design and Methodology
EDGN 599 Thesis Research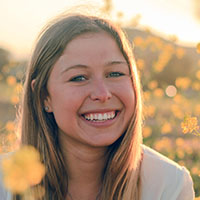 I chose the teaching credential program for the well-known connections that Cal Lutheran has with the local community. I'm given the opportunities to observe experienced teachers and make connections in local elementary schools that could possibly be my future employers one day. I am confident that this rigorous program will help me transform into the teacher I've always hoped to be.
Emily Glass '21