Chemistry
Bachelor of Arts
Bachelor of Science
Chemistry is the core science—the study of the properties, composition, and changes that occur in matter.
When you study chemistry, you analyze issues that influence every aspect of life on Earth.
Which degree is right for you?
We offer two degrees, each backed by a strong curriculum that will give you the knowledge base you need to successfully pursue the discipline.
Bachelor of Science – If you are targeting a career in industry or planning to attend a graduate program.
Bachelor of Arts – If you are seeking work in medicine, dentistry, or secondary school teaching.
Extensive laboratory work
Throughout your courses, you will regularly work with the modern instruments in our campus laboratories. This equipment includes infrared, nuclear magnetic resonance, and atomic absorption spectrophotometers. Separations equipment includes capillary electrophoresis, gas chromatography, high pressure liquid chromatography, and fast protein liquid chromatography equipment. Detectors range from mass spectrometers, electron capture, and flame ionization to rapid-scan UV-Vis spectrometers. You will also learn skills in computation and presentation of data.
Experiential learning and discovery
While the theoretical training you'll receive in lectures is important, you will also be encouraged to explore, discover, and ask questions in your laboratory training. Through integrated research questions and hands-on exploration in courses, you will be involved in discovering and contributing new knowledge to the scientific community.
Become a scientific researcher
Independent studies or full-time summer research is excellent preparation for real-world scientific or health-related work post-graduation. Explore the frontiers of chemistry with one of our research active faculty, stretch yourself with an internship in the Ventura County Crime Lab, Amgen, or a research experience off-campus.
You will gain exceptional experience, explore the thrill of discovery, and engage with the larger community of scientists at research conferences and the Cal Lutheran Festival of Scholars.
Our research labs are entirely staffed with student researchers to generate data that is published in international journals and presented at national conferences. Talk to us about whether there is an open project in our labs!
---
Programs
Offered as a major (BA or BS) and a minor.
Popular Minor Pairings
Want to learn more?
Let us know and we'll send you information about our academics, campus life, admission process, and more!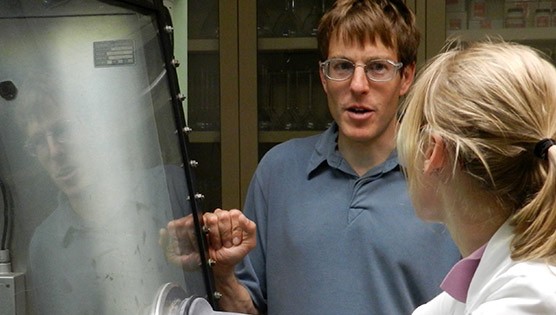 In the natural and physical sciences, a vital strategy in helping students discover their purpose is to present scenarios in which they can experience the exhilaration of discovery. The moment a young researcher detects that he or she has made a contribution to the unknown—however incremental—the student becomes impassioned and will immediately begin crafting the next logical experiment.

Jason Kingsbury
Assistant Professor
With inspiration and support from Dr. Katherine M. Hoffman, Sloan Sanders applies her chemistry major and art history minor into her research of analyzing pigment on artifact figures from Papua New Guinea. In the lab Sanders gives a preview of the equipment she uses to analyze the artifacts.
Connect with Cal Lutheran Students
Want to hear more about Cal Lutheran directly from our students? View the list of students below and click to start chatting!
Our chemistry program has a 100% placement record into graduate schools, many of them among the most respected in the nation.
Students not going on to graduate programs in chemistry often opt for health-related programs such as medical or pharmacy school, or physician's assistant programs, while others seek out teaching credentials. Chemistry majors who enter the workplace after graduation begin their careers in fields such as environmental controls management, consumer product research, drug discovery, toxicology, and forensic chemistry.
Our alumni study at:
Emory University
Boston University
Cornell University
UCLA
University of Colorado Health Sciences Center
University of Maryland
University of Notre Dame
University of Oregon
University of Rochester
Our alumni work for:
Baxter International Inc.
BioSource International
Cosmetic Technologies
Fruit Growers Laboratory
Gilead Sciences
Los Angeles County Crime Lab
NuSil Technology
Unity Lab Services
Career paths:
AP Chemistry Teacher
Chemical Technician
Chemist
Criminalist
Production Associate
Quality Control Chemist
Supervisor, Veterinary Clinic
of Cal Lutheran graduates find a job or enroll in graduate school within nine months
More Career Outcomes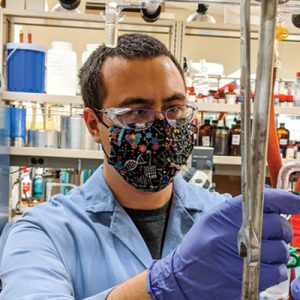 My research experience with Dr. Jon Tannaci studying applications in organic electronic devices was a great window in the life of a researcher. I found the transition into graduate research to be a smooth experience.
Hillis Johnson '16
Chemistry Major
Graduate Student, PhD in Polymer Chemistry, Cornell University
Want to learn more?
Let us know and we'll send you information about our academics, campus life, admission process, and more!