Chris Kimball, Ph.D.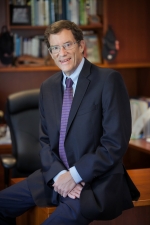 President, California Lutheran University
Book this person as a speaker:
Email: ckimball@callutheran.edu
Phone: (805) 493-3100
Speeches:
Five Things You Can Learn about America from Baseball History
An overview of the relationship between baseball and America's history and culture.

Baseball: The International Game
A look at the influence of baseball around the world. It's not just an all-American game!

Trends in Higher Education
A look at changes and the future programs in universities and colleges with special focus on independent institutions of higher learning

Why Lutheran Higher Education Matters
A look at what Lutheran education within the ELCA colleges and universities is all about

The History of CLU: 50 Years of Academic Excellence
An overview of the founding of CLU and its journey to become a well-respected university . As CLU celebrates its 50th anniversary, the school continues to grow, to educate leaders for a global society, and to serve numerous communities.
---
His scholarly work is in the field of American history, with a specialization in social history and the history of sport. Along with serving as President, he is also a member of the History Department. An alumnus of McGill University, Kimball received his Ph.D. from the University of Chicago.