Gregory Freeland, Ph.D.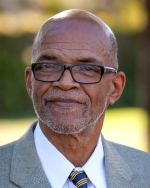 Professor of Political Science
Book this person as a speaker:
Email: freeland@callutheran.edu
Phone: (805) 493-3477
Speeches:
Multiculturalism and Diversity in the United States

Citizen Participation and Civic Engagement

The Civil Rights Movement
---
Gregory Freeland of the Department of Political Science, Director of the Global Studies Program, faculty adviser to Model United Nations.
He teaches courses on Social Movements, American Politics, Latin American/Caribbean Politics and Culture, and Music and Civil Rights Movement. He has led travel seminars to Jamaica and Cuba. He is a member of the Caribbean Studies Association and the Western Political Science Association.
His recent articles include: "We're a Winner: Music and the Black Power Movement," "Negotiating Place, Space, and Borders: The New Sanctuary Movement," "Music and the Rise of Caribbean Nationalism: The Jamaican Case," and "Community Members Draw the Line: Redistricting by a Ventura County Community Task Force."
Dr. Freeland is co-editor of the book International Environmental Justice: Competing Claims and Perspectives.
He has received grants from the National Endowment for the Humanities and the John Randolph Haynes and Dora Haynes Foundation Faculty Fellowship. He continues to do research on global and community interests.
Dr. Freeland serves on CLU's President's Diversity Council, Student Life Committee, and Honors Committee. He is also President of the Central Coast Alliance United for a Sustainable Economy Board.
Dr. Freeland received a Lifetime Achievement Award from CAUSE in recognition of outstanding and invaluable service to the community (April 2017).