Events for May. 5, 2013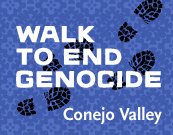 11:30 am – 2:00 pm at Temple Etz Chaim and United Methodist Church
The walk is done in order to raise awareness and money to help victims of Genocide, particularly in Sudan, Darfur, and Congo. We encourages you to join our team or support us on line.