Academics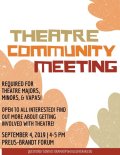 4:00 pm – 5:00 pm at Preus-Brandt Forum
Want to be involved with the Theatre Arts & Dance Department? Come to our first community meeting of the year for more information!
10:30 am – 1:00 pm at Regals Way
Please join the study abroad fair on Tuesday, September 17 from 10:30am-1:30pm @ The Spine.