Communication
Bachelor of Arts
Learn to deliver effective messaging across all forms of media.
The skills you'll develop will be relevant in every industry and endeavor.
Gain strong research skills
Your studies will start with a foundation in communication theory, mass media history, and story writing. You'll perform research about topical issues in order to critically evaluate the messages and effects of modern communication.
Individualize your degree
You'll focus on the area of communication that most closely aligns with your goals by choosing one of several concentrations. You can also pursue a general communication degree combined with courses in other subjects related to your career objective, such as political science.
If marketing is your field of interest, you may want to consider a degree in marketing communication.
Start doing real work as part of your classes
Your courses will afford you many opportunities to take an active role in developing your communication skills through special projects and on-campus media outlets. For example, you can:
Produce your own radio show on iCLU
Write articles for the award-winning Echo newspaper
Produce and implement a real advertising campaign
Broadcast and stream university sports events
Write, direct, and produce a student film
Join a professional community
Networking will be an important part of your career, no matter which field you choose. You can start growing your professional network as a student by participating in the national Communication honors society, Lambda Pi Eta, or in professional groups such as the American Marketing Association or the Public Relations Student Society of America.
Get invaluable job experience
You'll be required to complete an internship. This invaluable career-building experience allows you to interact with professionals in the field. Because of our proximity to Los Angeles, you'll be able to intern for such companies as:
Warner Brothers
Los Angeles Times
Disney
L.A. Clippers
Fox Television
---
Programs
Offered as a major (BA) and a minor.
Concentrations
Advertising/Public Relations
Film and Television Production
Journalism
Sports Communication
Popular Minor Pairings
Want to learn more?
Let us know and we'll send you information about our academics, campus life, admission process, and more!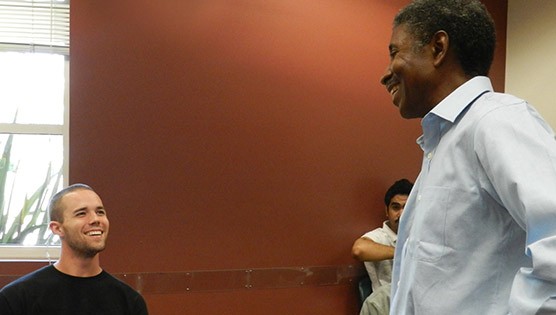 I think one of the most important tools in helping students discover and live their purpose is getting them to understand not to take their experiences for granted. In teaching critical thinking, we often privilege this action as questioning but it can be a part of the creative process, too. As the British writer Neil Gaiman said, 'You can take for granted that people know more or less what a street, a shop, a beach, a sky, an oak tree look like. Tell them what makes this one different.'

Russell Stockard
Professor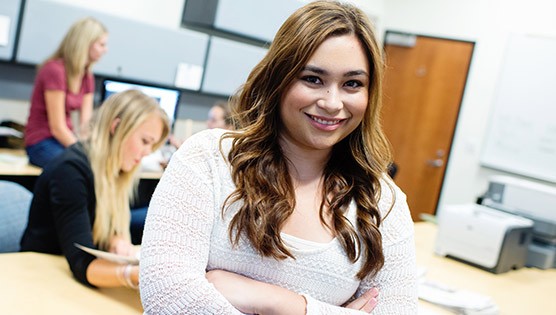 As a communication major I have had the opportunity to discover and pursue many avenues in my college career. I've been able to build skills that are specific to writing and reporting news, but I have acquired skills that can help me outside of journalism, such as in movie production, web design, research and more.

Alesandria Posada '16
Because of our internship programs, contacts in the professional world, and the excellent support of Cal Lutheran Career Services, the placement rate for communication majors is quite impressive.
Recent graduates have taken rewarding jobs in a variety of fields. These include market research, public relations, and broadcasting.
Our alumni study at:
Cal State University, Northridge
Fashion Institute of Design
George Washington University
Liverpool Hope University
Loyola Marymount University
New York University
Norwegian University of Science and Technology
Pepperdine Law School
University of Southern California
University of California, Los Angeles
University of Surrey (UK)
University of California San Diego
Our alumni work for:
ABC Television
City of Simi Valley
Disney ABC Television Group
E! Entertainment
Edelman
ESPN Radio
Four Seasons Hotel & Resorts
Fox Sports
NBC Universal
Sony Pictures
Time Magazine
The Walt Disney Company
United Way
Warner Brothers
Career paths:
Account Executive
Community Service Coordinator
Events Manager
Marketing/Sales Coordinator
News Assistant
TV Development Assistant
Sales Consultant
Advertising Copywriter
Radio DJ
Production Manager
Public Relations Specialist
Market Researcher
Human Resources Rep.
of Cal Lutheran graduates find a job or enroll in graduate school within nine months
More Career Outcomes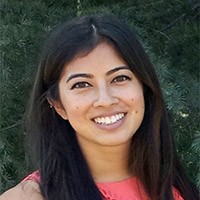 I help tell the stories and share the accomplishments of our marine scientists. It's a small department, so I help with any projects related to communication. I recommend you do as many internships as you can while in school, and don't worry if you don't have your dream job immediately after graduation. Sometimes you just need work experience and the rest will happen with time.
Caitlyn Coomber '12
Communication and Political Science Major
Communication Specialist, Scripps Institution of Oceanography
Want to learn more?
Let us know and we'll send you information about our academics, campus life, admission process, and more!