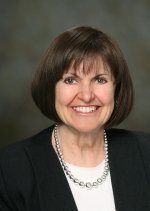 K.T. Connor, Ph.D.
Senior Adjunct Faculty Member
Connor, K.T., Ph.D. received her Doctorate from USC and her MA from Case Reserve University. She has taught Communication at USC, Management at Cal State Fullerton, Innovation and Creativity at Pepperdine University, and Organizational Development at CLU. She currently teaches Ethics in Public Administration. She has been both full-time professor and full-time administrator over her career. At D'Youville College in Buffalo, NY she founded the Center for Management Studies and the Center for Women in Management, and was Director of the Management Center for several years. She has worked internally with Rich Products Corporation and InsideOut Development and has worked with numerous public and private organizations as an external consultant. She was also Subject Matter Expert at Annapolis for the US Navy's Character Symposium, and addressed the conference on public sector selection on NATO Headquarters..
In addition to being a Senior Adjunct Professor at CLU, she is currently Managing Director of the Center for Applied AxioMetrics. This is a global network of assessment specialists whom she has trained to use Axiometrics™ in their consulting practice and whom she now counsels and supports. She is also Immediate Past President of the Robert S. Hartman Institute, an international professional society devoted to the work of the founder of Value Science.
Dr. Connor is a Past President of the Creative Education Foundation, founded by the inventor of brainstorming, Alex Osborn. She has served in both national, regional, and local positions for the American Society of Training and Development and is a Past Vice President of the Product Development and Management Association. She is a current member of ASTD-LA, ICF-LA, OD-LA, NHRA-Ventura. She has been a member of the Association of Test Publishers, belonging as well to its Public Sector Interest Group and its European and Asian Subgroups. She is currently developing testing for the assessment of cultural values.
When she was Director of the Management Center, and the Center for Women in Management at D'Youville College in Buffalo, women were just beginning to enter higher management positions. She also travelled across the country as an Organization Development specialist and team building facilitator assisting private and public organizations, all the while a nun of the order that founded the college.