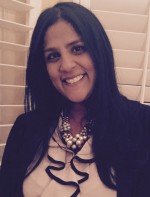 Disha Patel
Adjunct Faculty Member
Office Hours: By appointment
Disha Patel is a senior information technology and business professional with extensive experience in life sciences/healthcare, government, and non-profit domains. Disha has lived and worked in Europe and South East Asia giving her a global perspective to her efforts.
With nearly two decades of experience in technology and business, Disha has witnessed first hand the evolution of technology and its impact to organizations and society. In addition, Disha has a strong understanding and appreciation for business strategy, technology, design, and user experience to deliver meaningful, value-driven products.
Disha is at Amgen, biotechnology company, where she has held diverse IT leadership roles serving various business units. Her life science experience began at Eli Lilly and Company and her technology experience began with the United States Air Force.
In addition, Disha is on the leadership team of Amgen's Women Empowered To Be Exceptional business resource group and an adviser and past president for Healthcare Businesswomen's Association. She is on the board of Cambridge University's Judge Business School Alumni Council and Miami University's School of Engineering and Applied Science Council.
Masters Management, University of Cambridge (Judge Business School)
Bachelor of Science Systems Analysis and Computer Science, Miami University (Ohio)
Certificate Advanced Project Management, Stanford University
Technology Management and Leadership
Agile Product Development
International Business
Business and IT Strategy
Organizational, Team, Program, and Project Leadership
Non-Profit Leadership and Boards