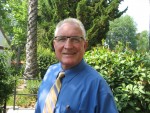 Randall Donohue, Ph.D.
Adjunct Faculty Member
Office Hours: by appointment
Randall lived and worked in Asia for 23 years before joining the CLU School of Management for ten years. Next, at Concordia University (Portland) he developed developed and directed a China MBA Program. In 2013, he moved to Eugene, Oregon where he is an active member of the Osher Lifelong Learning Institute at the University of Oregon. Randall maintains a keen interest in peoples, cultures and geo-political developments throughout the Indo-AsiaPacific region.

Ph.D. International Business, University of South Australia (2003).

M.Sc. International Marketing, University of Strathclyde, UK (1994).

B.A. Rhetoric (Pre-Law), Willamette University, Oregon USA (1969).

At the Osher Lifelong Learning Institute (University of Oregon), Randall has developed a series of country profiles about Indo-Asia-Pacific history, peoples and cultures, economics, politics and issues affecting the global community. In 2015, his profiles of China, India, Indonesia and Singapore attracted enthusiastic audiences. Currently, Randall is updating his unit on "Conflicts in the South China Sea", addressing competing territorial claims in the region involving China, Vietnam and the Philippines.