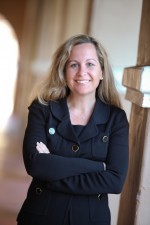 Meghan B. Clark, J.D.
Adjunct Faculty Member
Office Hours: By appointment
About
Meghan Clark is a member of our adjunct faculty for the School of Management's MBA program. She received her B.A. from the University of California, Santa Barbara and her J.D. from Gonzaga University School of Law in Spokane, Washington.
PROFESSIONAL EXPERIENCE

From the time she was admitted to the bar in 1998, Ms. Clark has handled appeals, writs and business litigation. Her practice now focuses primarily on employment law and appellate work.
Meghan provides day-to-day advice to employers on every employment law question possible, including handling terminations, development of employment policies and counseling employees.
She has successfully defended employers in lawsuits involving harassment and discrimination, disability, leaves of absence and wage and hour issues. She has also represented employers in disputes involving an employee's improper use of an employer's intellectual property, including customer lists and commercially sensitive information.
Meghan has handled more than forty writs and appeals, with several published cases.
TEACHING EXPERIENCE
For more than a decade, Meghan has regularly conducted seminars and trainings for C-suite executives, business owners, and HR professionals. She brings the same practical, real world experience to teaching in our MBA program.
AWARDS AND RECOGNITION
Meghan was selected as one of Super Lawyers' "Rising Stars" in 2011, 2012, 2013, 2014 and 2015.
In 2006, she received the Pacific Coast Business Times' "Top 40 under 40" award.
In 2013, she was one of six women selected by the Pacific Coast Business Times in the Professional Services category for the Top 50 Women in Business award. In 2014, she was honored as the "Editor's Choice" in the Professional Services category.
Pacific Coast Business Times also named Meghan in 2015 to its Who's Who in Professional Services list.
COMMUNITY
Meghan is a member of the Board of Counselors for California Lutheran University and is the Vice Chair of the East Ventura County Employer's Advisory Council.
Meghan has twice served as a board member of the Ventura County Bar Association, the California Young Lawyers Association, past president of the Ventura County Barristers' Association and past coach for the Thousand Oaks High School Mock Trial Team.
Education
University of California, Santa Barbara, B.A. in Law and Society - June 1995
Gonzaga University School of Law, J.D. - May 1998
Expertise
Employment Law
Business Law
Civil Litigation
Policy Development for Organizations
Organization Best Practices