Find the latest information about our COVID-19 response
The School of Management at Cal Lutheran is dedicated to producing graduates who are well prepared to succeed in their personal and professional lives — who lead, think, communicate, and follow through with sustained excellence.
Our Programs
Choose a degree from a variety of professional fields with multiple campuses and online study options.
view our programs
Our Faculty
Our faculty will help you develop a high-demand skill set that will advance your career.
meet our faculty
Our Community
This is a place where students, alumni, faculty, and business leaders convene to explore ideas and shape the future.
learn more
Zillow honors our School of Management Economist's
Matthew Fienup, Executive Director, CERF & Lecturer, Economics, & Dan Hamilton, Director of Economics, CERF & Director, MS in Quantitative Economics program, were honored as 2019 Zillow Home Price Expectations Crystal Ball Award Winners
Undergraduate Students
Alumni Around the World
Faculty and Instructors
Advisory Council & Board Members
Academic & Research Centers
View the School of Management "Snapshot" report for more facts and figures.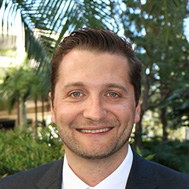 The MSQE puts a strong emphasis on math, more so than most similar programs would. Working as an Investment Manager at Ameriprise Financial, responsible for analyzing products and investment opportunities, the strong quantitative base from Cal Lutheran makes it easy to decipher what's snake oil and what's not.
Vedran Kaluderovic
Investment Manager, Ameriprise Financial