Mathematics
Bachelor of Arts
Bachelor of Science
Compound your potential.
With an in-demand math degree and the analytical reasoning skills employers seek, the limit of career options does not exist.
Build a theoretical foundation
Mathematical theory will be at the core of your studies. You will explore the many branches of math including geometry, set theory, calculus and statistics. By comprehending foundational mathematical principles and becoming a creative problem-solver, you'll have the traits to succeed in fields ranging from business to health.
Solve complex problems with modern tools
Using industry-standard programs like RStudio and Mathematica, you'll tackle complex mathematical problems with simulations and modeling. Our interdisciplinary curriculum will also incorporate the tools of fields such as computer science, physics and economics into your studies, and give flexibility to add a major or minor in an area that supports your interests and career goals. Along the way, you'll have the guidance of a diverse faculty, whose various areas of expertise and teaching styles are here to support a diverse cohort of students and help meet your unique needs.
Think beyond the classroom with real-world applications
Apply mathematical concepts to the real-world problems that interest you. All students complete a capstone project investigating a topic of their choice and can showcase their research and communication skills at annual conferences, such as the Cal Lutheran Student Research Symposium and Festival of Scholars. You can also pursue internships, conduct summer research with a faculty member, and participate in nationwide math competitions.
Shape our curriculum to fit your goals
If you want to become a teacher, with our B.S. in math, you'll be able to tailor your courses and look at math concepts through the lens of teaching. Our program is also approved by the California Commission on Teacher Credentialing. This means you can directly enter a teaching credential program after graduation without taking California's exam for prospective credential candidates. 
If you plan to study economics, obtain a graduate business degree, or attend law school, a Bachelor of Arts in mathematics will allow you to complement your studies with non-science courses in your area of interest.
Experience a STEM-focused liberal arts university
Cal Lutheran is committed to giving all students the opportunity to pursue careers in science, technology, engineering and math, and become well-rounded leaders in their fields. Our programs include:
---
Programs
Offered as a major (BA or BS) and a minor.
Popular Minor Pairings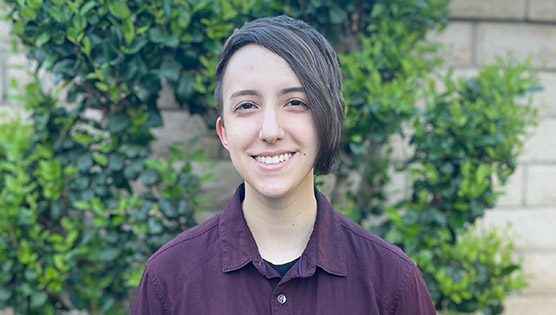 Math capstone research was an opportunity to find a topic that really interested me and investigate it more in depth. After finding a topic that I really enjoyed, I chose to study it for an extra semester by doing math honors research. Doing research in math helps with developing not only mathematical ability but also initiative, creativity, and the ability to communicate complex concepts clearly—all of which are useful career skills and life skills.
Monica Kane '16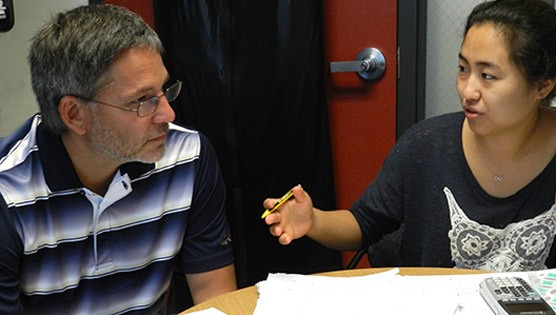 The most important factor in helping students discover their purpose is experience. Without many experiences students aimlessly attempt to make themselves fit without passion. Providing students with a wide range of experiences, from social to academic, provides the opportunity for students to determine their passions which in turn leads to students discovering their purpose.

John Villalpando
Associate Professor
Your mathematical knowledge will be applicable to a wide variety of careers and situations. You'll also be well prepared to pursue graduate studies.
With a B.S. degree, you'll be able to enter graduate programs in mathematics, engineering, physics, and computer science.
With a B.A. degree, you'll be ready to pursue further study in actuarial science, business, education, finance, and the natural sciences.
Our alumni study at:
Boise State University

California Lutheran University Graduate School of Education

Cal Poly San Luis Obispo

California State University, Channel Islands

Oregon State University

San Francisco State University

Texas A&M University

University of Alaska

University of California, Santa Cruz

University of Nebraska
Our alumni work for:
Aerospace Corporation

Amazon

Microsoft

Conejo Valley Unified School District

Cydcor

De Novo Software

DreamWorks Animation

Motor Vehicle Software Company

NASA Jet Propulsion Laboratories

Next Insurance

Oxnard College

Synergy Academies
Career paths:
Aerospace Technical Staff

BioTech Processing Assistant

Financial Representative

Math Teacher

Quality Control Manager

Research Scientist

Senior Financial Analyst

Software Developer

Technical Director
of Cal Lutheran graduates find a job or enroll in graduate school within nine months
More Career Outcomes
Want to learn more?
Let us know and we'll send you information about our academics, campus life, admission process, and more!