Biology
Bachelor of Arts
Bachelor of Science
Biologists study many aspects of how life operates – from the molecular details of cells to how entire ecosystems function.
You'll examine all aspects of the biological world, preparing you for a successful career in health, research, or teaching.
Learn the fundamentals, then expand your scope
Your first courses will give you a solid understanding of biological systems from the molecular to ecological level. With this foundational knowledge, you'll be able to explore more advanced subjects, including:
Marine biology
Genetics
Immunology
Neuroscience
Evolution
Ecology
Biochemistry
Cancer biology
Microbiology
Molecular biology
Developmental biology
Physiology
Take an active approach
We emphasize "doing" science. Throughout your classes, you'll work side-by-side with your professors in the lab and field to discover key insights about your subjects — gaining invaluable hands-on experience along the way.
Experiment — a lot!
The heart of the biology major is experimentation, and you'll do lots of it. You'll design your own experiments, collect scientific data, perform statistical analysis, and share your conclusions through research papers and presentations.
Expand your research
You'll be able to further the research from your classes — or even start ambitious new experiments — with opportunities available through our:
Full-time, 40-hours-per-week summer research fellowships
Departmental honors program, with additional research-intensive courses
Share your findings
You'll present your original research at the Festival of Scholars and the Student Research Symposium. These annual events — in addition to scholarly conferences across the nation — will allow you to directly engage the larger scientific community.
Network with academic peers and working professionals
By joining the TriBeta National Biological Honor Society, you'll be plugged into a strong community of scientists who share your passions and goals. If you are pursuing a health-related field, there are several active student-run clubs that will connect you with professionals currently working in your future career.
Choose between a B.S. or B.A. degree
If you're considering a career in health or research, a bachelor of science degree is likely the one you'll wish to pursue, as it provides additional courses that are essential to these professions.
If your goal is to teach — or if you wish to add a minor or second major — a bachelor of arts degree may serve you better. You can also choose to earn your teaching credential through our Graduate School of Education's credential program.
---
Programs
Offered as a major (BA or BS) and a minor.
Popular Minor Pairings
Want to learn more?
Let us know and we'll send you information about our academics, campus life, admission process, and more!
It's really exciting that we could have such a big impact on the scientific community just because we're doing something that hasn't been done before.

C.J. O'Brien
Project: The Effects of Ocean Microplastics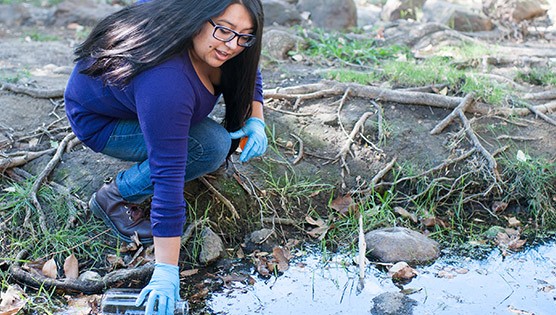 I learned more about what to expect out of the trial and error process and how to encounter the unexpected in a lab setting. It taught me patience and allowed me to express creativity with my ideas.

Danielle Renee Montoya '15
Careers in biology are available in both the private and public sector. These include positions in research, teaching, and the pharmaceutical and medical equipment industries.
The growing areas of genetics and biotechnology also provide many career opportunities. The global biotechnology companies Amgen and Baxalta are located near Cal Lutheran and hire graduates each year.
Many biology majors are accepted into medical, dental, and graduate schools. As an undergrad, you'll benefit from resources like our Pre-Med Advising Program, which prepares students for the challenges of medical school and allied health programs.
Our alumni study at:
Colorado State University
Harvard University
Johns Hopkins University
Loma Linda University
Marshall University
Mayo Medical Clinic
Midwestern University
Southwest College of Naturopathic Medicine
Tufts University
UC, Davis
UCLA
University of Southern California
Western School of Health Sciences
Our alumni work for:
Amgen
Baxter Bioscience
BioSource International
CA Institute of Molecular Medicine
Conejo Valley Veterinary Hospital
DAKO, Inc.
Federal Bureau of Investigation (FBI)
Invitrogen
Mobile Marine Lab
Sea World
Thermo-Fisher Scientific
Ventura County Crime Lab
Career paths:
Biotechnology Associate
Community Health Coordinator
Lab Technician
Medical Assistant
Nursing
Peace Corps/Community Service
Pharmacy Technician
Physician
Research Associate
Quality Control Analyst
Veterinary Science
of Cal Lutheran graduates find a job or enroll in graduate school within nine months
More Career Outcomes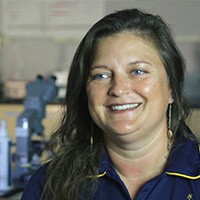 Every class I took at Cal Lutheran, just about, had some kind of hands-on component. I also went above and beyond and took undergraduate research. That was what was so exciting as an undergrad, to have that opportunity to spend one-on-one tie with my advisor, developing the experiment, carrying it out, and then realizing, well, I was incorrect, but that's okay.
Melissa Baffa '95
Biology Major
VP of Program and Volunteer Services with Girl Scouts of California's Central Coast, Science Communication Fellow on the E/V Nautilus with Ocean Exploration Trust
Want to learn more?
Let us know and we'll send you information about our academics, campus life, admission process, and more!