Biology
Bachelor of Arts
Bachelor of Science
Biologists study many aspects of how life operates — from the molecular details of cell function to how entire ecosystems function.
You'll examine all aspects of the biological world, preparing you for multiple career paths, including the health professions, research, teaching and many others.
Learn the fundamentals, then expand your scope
Your first courses will give you a solid understanding of biological systems — from the molecular to ecological level. With this foundational knowledge, you'll be able to explore more advanced subjects, including:
Marine biology
Genetics
Immunology
Neuroscience
Ecology
Biochemistry
Microbiology
Physiology
Experiment — a lot!
We emphasize "doing" science and an active approach to learning. Throughout your classes, you'll gain a lot of research-like experience by working side-by-side with your professors in state-of-the-art facilities. You'll design experiments, collect scientific data, perform statistical analysis and share your conclusions through research papers and presentations.
Get involved with research
If you want to further explore the research questions raised during your classes — or even start new experiments — you have the opportunity to participate in:
Join the scientific community
You'll have the opportunity to present your original, mentored research at the Festival of Scholars or Student Research Symposium. You can even share your findings at national conferences!
We also encourage you to join the TriBeta National Biological Honor Society and pre-health clubs to connect with other students and faculty who share your passions and goals.
Teaching, research, biotech, clinical… so many careers!
A biology degree opens up a lot of career opportunities for you. The health professions, such as medicine, allied health, nursing, dentistry, or veterinary medicine, are popular with biology majors. But you can also pursue a career in research, biotechnology, clinical work, and even teaching! The substantial critical thinking you'll engage in and the skills you'll develop as a biology major will serve you well in any career.
We offer two degrees in biology: a bachelor of science if you are considering a career in a health profession or research and a bachelor of arts if your goal is to teach at the K-12 levels or pursue other post-graduate careers.
If you decide to pursue an advanced degree in medicine or allied health, then you'll have the support of our Pre-Med Advising Program to prepare for the challenges of graduate school.
---
Programs
Offered as a major (BA or BS) and a minor.
Recommended Minors
Want to add even more value to your degree? Consider one of these minors to gain a unique combination of skills and perspectives.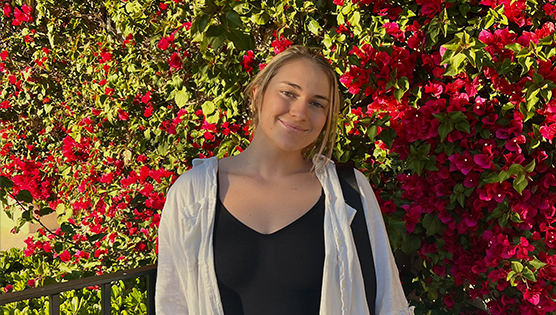 The biology major has helped to solidify my interest in a medical career by providing academic exploration, exposure to healthcare-related experiences, mentorship, peer interactions, research opportunities, and pre-medical resources and support. By majoring in biology and minoring in chemistry and public health, I can fulfill the pre-medical or pre-health requirements necessary for admission to professional schools and succeed in these programs.
Ashley Dumas '24
It's really exciting that we could have such a big impact on the scientific community just because we're doing something that hasn't been done before.

C.J. O'Brien
Project: The Effects of Ocean Microplastics
Careers in biology are available in both the private and public sectors. These include positions in research, teaching, and the pharmaceutical and medical equipment industries.
The growing areas of genetics and biotechnology also provide many career opportunities. The global biotechnology companies Amgen and Baxalta are located near Cal Lutheran and hire graduates each year.
Many of our biology majors are also accepted into medical, dental, veterinary and other graduate schools.
Our alumni study at:
Colorado State University
Harvard University
Johns Hopkins University
Loma Linda University
Marshall University
Mayo Medical Clinic
Midwestern University
Southwest College of Naturopathic Medicine
Tufts University
UC, Davis
UCLA
University of Southern California
Western School of Health Sciences
Our alumni work for:
Amgen
Baxter Bioscience
BioSource International
CA Institute of Molecular Medicine
Conejo Valley Veterinary Hospital
DAKO, Inc.
Federal Bureau of Investigation (FBI)
Invitrogen
Mobile Marine Lab
Sea World
Thermo-Fisher Scientific
Ventura County Crime Lab
Career paths:
Biotechnology Associate
Community Health Coordinator
Lab Technician
Medical Assistant
Nursing
Peace Corps/Community Service
Pharmacy Technician
Physician
Research Associate
Quality Control Analyst
Veterinary Science
of Cal Lutheran graduates find a job or enroll in graduate school within nine months
More Career Outcomes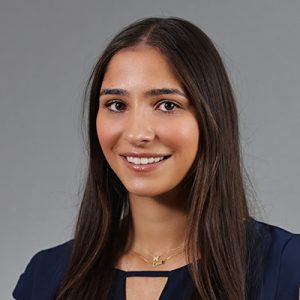 Doing research allowed me to graduate with departmental honors, which helped me stand out in my application to my graduate program. Also, all professors in the department are not only extremely knowledgeable, but also very willing to go out of their way and help students achieve their goals.
Emily Jabourian '21
Biology Major
Physician Assistant, USC Keck School of Medicine
Want to learn more?
Let us know and we'll send you information about our academics, campus life, admission process, and more!